So last month was Oral Cancer Awareness month and Denplan sent us some lovely blue lip stickers to wear on our masks to help show our support & raise awareness. See our silly #bluelipselfies below!
We supported this great cause because in the UK, more than 6,700 people were diagnosed with mouth cancer last year. The disease has grown by a third in the last decade – and remains one of very few cancers which are predicted to increase further in the coming years – that's why Mouth Cancer Action is so important.
Anyone can be affected by mouth cancer, whether they have their own teeth or dentures that is why it is important you attend your regular check ups with your Dentist. Mouth cancers are more common in people over 40, in particular men. However, research has shown that mouth cancer is becoming more common in younger patients and in women. In the last year there has been an increase of more than a third of patients diagnosed compared to a decade ago.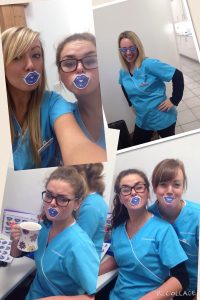 Sadly, more than 1,800 people in the UK lose their life to mouth cancer every year. Many of these deaths could be prevented if the cancer was caught early enough. As it is, people with mouth cancer are more likely to die than those having cervical cancer or melanoma skin cancer.
If you would like to read about oral cancer awareness please click the following link…www.mouthcancer.org/bluelipselfie/
We hope by just a few of our patients reading this segment it will raise more awareness and encourage you to get your friends and family to have regular checks.
Return to Blog