Testimonials
---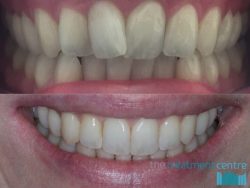 "I am now so much more confident in showing my big smile or laugh, whereas I use to smile for photos with my lips tightly shut, I now feel confident to smile with my aligned teeth on show!  I cannot thank Anna and the practice enough in giving me this opportunity and confidence I never thought I would have."
Jax Core
"I'd been so unhappy with my teeth for as long as I remember, I would never smile with my teeth and always covered my mouth when I laughed. I decided to get Invisalign and chose to go with The Treatment Centre – I am so glad I did. All of the staff were so kind, Charlotte and Jessica were very friendly and helpful whenever I needed anything, Ash and Jax were super lovely and Anna was amazing from start to finish. Everything was always explained clearly to me and I always felt calm knowing my teeth were in their hands. The whole Invisalign process was incredibly easy and wearing the trays was comfortable and painless – my mouth actually felt weird when I didn't have them in. I couldn't believe how quick and visible the changes were week on week. I am so happy with how the process went and with my results – I smile all the time now and feel much more confident. I can't thank the ladies at The Treatment Centre enough!"
Invisalign
'I had been unhappy with my teeth for some time. Seeing photos of my smile and crooked front teeth were particularly difficult and I found myself smiling less! After some careful research and advice from my dentist I decided to try Invisalign. It sounded less intrusive than other methods and I found the whole process, one I had got to grips with it, really easy and flexible to my own life. My treatment was really quick and watching the changes take place every 2 weeks and recording them on the Invisalign app felt very satisfying! The results are tremendous; I have straight teeth and an even smile! I actually find myself smiling more and am definitely much more confident! Anna and her team were brilliant all the way through, on hand for any queries and questions. My progress was closely monitored and any relevant changes were made to ensure I was 100% happy with the results! I love my teeth!!'
Anna Callister
Please could you pass on a massive 'thank you' to your receptionist, dental nurse, and Anna Taylor for seeing me so promptly last Thursday when I was in so much pain.
I would like to convey that the treatment was very effective and I have been pain free ever since, a huge relief!
A big 'thank you' also to Jax for her patience and sweet natured support, it was really appreciated.
Elaine Tangye
A very friendly practice.
Anna gives a professional service but with the personal touch. She puts me at ease.
Tanya Oliver
Thank you so much for all the work you have put in to help me bring back my smile!
You're all superstars!
Jessie
I just wanted to say a huge thank you to Anna and her team at the dental practice.
I recently had 2 teeth extracted in preparation for braces being fitted to my teeth. The way it was handled was second to none, what an excellent service I received. Anna was very professional extracting my teeth, and very tenacious and caring throughout the process, I couldn't ask for a better service.
Thank you.
Russell Binckes
We just wanted to say a huge thank you to you all for the level of care and concern you have shown to our daughter, Tilly.
You have definitely gone above and beyond and it's greatly appreciated.
Thank you – you're all fab!
Jane, Alan, and Tilly Dodd