Interdental brushing is SO important…Now cleaning your teeth Morning and Night is brilliant do not get me wrong but if you aren't flossing (of some description) food trapped in-between your teeth can turn into plaque then calculus in around 48hours! Increasing your gum disease & decay rate!
Now we all at times can find interdental  cleaning difficult but rest assured there is more than one product out there designed to help make this tricky task a whole lot simpler! I have wrote a small piece about each of the products we recommend.. so if your missing your interdental cleaning have a read and see which product you think could help keep your pearly whites nice & tartar/calculus free.
Floss
Now floss… our old favourite, easy to use if you've selected the right one for you, but fairly tricky if you've selected a thick floss and your teeth are over-crowded!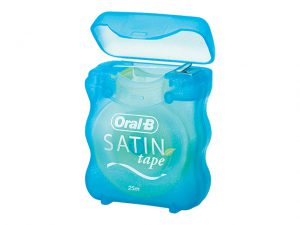 Now, generally the easiest ones to use are the tape type flosses, this is because they are usually flat and can slide down easily between the teeth, cleaning away all the food debris stuck there. The Oral  satin tape is reasonably priced and simple to use, we find this a favourite among our patients.
TePe
TePe brushes are a brilliant way to help keep your teeth clean, the different colours correlate to the width of the brush so there is a size out there for everyone. Your dentist can recommend which colour is suited to you at your next check up.

The interdental brushes are small brushes designed just for cleaning the spaces between your teeth, they can be used as an alternative to flossing. Toothbrushes can not clean the spaces between the teeth so by adding this to your cleaning regimen you will help to reduce plaque & calculus build up, then in turn reduce your tooth decay rate. They are an easy and efficient method to keep your gums and teeth fresh and healthy. These are my personal favourite as I have upper & lower fixed retainers so flossing is impossible! These are also great if you are undergoing orthodontic treatment, soo handy as they can get between the nooks & crannies of the wire and brackets on the brace-work, keeping it all nice and clean.
Floss picks
Floss Pick's are gentle on teeth and gums and with the handle make it easy to comfortably & efficiently remove food and plaque.
Clinically proven to be as effective as normal floss!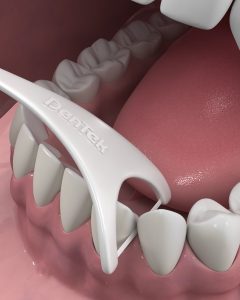 Flossing is important to the health of your teeth and gums and we can all find flossing tricky, especially the back molar teeth, these ingenious little floss picks with thin mint flavoured floss make the dastardly dead sooo much easier.
Dental wood sticks
Wood sticks are a great interdental aid they have a triangular profile so they are brilliant for patients who have a fixed metal retainer (after having braces) they can be efficiently used to clean & remove any lingering food debris that gets stuck around the retainer and in between teeth.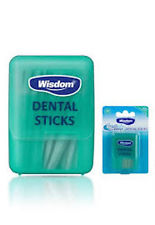 The usually have a minty taste and have the added benefit of fluoride to help protect your teeth.
Water Flossing
Water flossing is still a fairly new concept but proven to be very effective if used correctly.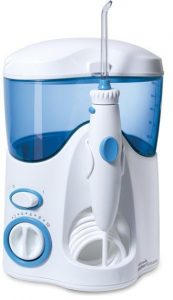 Designed especially for people who find flossing tricky this is a very clever product it removes the plaque and debris lurking deep between teeth and below the gumline, where it's hard to reach with traditional brushing and flossing. This is an ingenious bit of kit and very simple to use (once you've managed to soak yourself & your bathroom a few times) some people are a natural at using the water flosser & some take a couple of attempts to master the technique but all in all this product is a favourite among many of our patients.
If you would like to watch a video on Water flossing please click here. The person in the video is a very experienced water flosser & if you follow his technique you will have no problems and you are also less likely to turn your bathroom into a wet room..!!
So I hope this has been helpful, all of the above mentioned products are available in most stores & online so you have no excuses, try one! 🙂 If you are due for your annual check up contact the practice and ask your dentist which type of interdental cleaning is best for you!
Contact reception on 01872 241955 or info@thetreatmentcentre.co.uk
Return to Blog