So we have had a busy few months at the practice. Anna has started lots of Invisalign cases helping our patients achieve lovely straight teeth, Jax our manager has started her own Invisalign journey in straightening her teeth, Selena is coming to the end of her Foundation year as a qualified Dentist and preparing for her move back to Belfast and we are all now on the countdown for Baby Wills to arrive!
So in the lead up to Selena finishing her year here Anna, Selena and their husbands attended the FD Ball in Plymouth. Which gave them the opportunity to discard their scrubs and don their glad rags!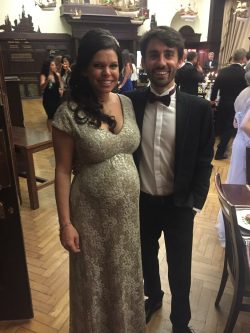 As you can see from this lovely photo of Anna & her husband Tom at the FD Ball, she has finally started to show & although she is still very petite she actually only has around 8 weeks left of her pregnancy. We are all very excited to meet Baby Wills!
Anna is hoping to work until mid-end August (all being well) but have no fear, Anna's cover Dentist Rebecca is starting with us next week – so she can work alongside and then take over seamlessly where Anna leaves off. Anna & Rebecca have been friends for years and even studied Dentistry together, we can't wait for you to meet her!
Return to Blog