You know Christmas is just around the corner when the annual City of Lights parade is only next week!!
This years theme for the Parade was inspired by the Cornish Archives and County records office which is 'The Museum of Lost Stories'  we know for sure there will be some amazing constructions displayed throughout the streets of Truro. The Parade is set to start at 7pm at the top of Falmouth Road in Truro next Wednesday 18/11/15.
A host of entertainers will be performing from 17:30pm in the city centre to build up the atmosphere before the start of the parade and afterwards, including samba, brass bands with pipe and drum musicians.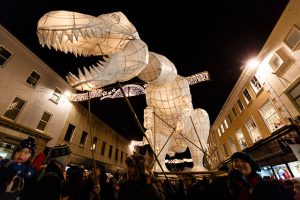 (We love the Dinosaur lantern from a previous parade, he has super pearly whites!!)
The parade is now in its 19th year!!  The event marks the start of Truro's Christmas festivities and involves 800 children, 20 schools and around 30,000 spectators each year!!
Festival co-ordinator Claire Eason-Bassett said: "When we started this event in 1997 the dream was to create a new tradition to applaud and involve the talent of the local community.
We can't wait to see what the parade has to offer and also look forward to the official switch on of Truro's Christmas lights!!
Return to Blog