So during the Easter half term I visited the Happy Days Pre-School in Illogan. I decided I would like to visit the Nursery where I used to work & try to help the little Pre-Schoolers understand why brushing your teeth twice a day is SO important.
I had a little helper join me at the Nursery – 'Kangaroo' who I explained to the children had been to the Dentist for the first time today, he met lovely Liz on reception who checked him in for his appointment and then he had his very first dental check up with our very own Dr Anna Taylor.
 The children loved looking at pictures of the Dental Surgery but I think they enjoyed our Peppa Pig at the Dentist book more. The children were very enthusiastic and loved repeatedly telling me that you have to brush, brush, brush your teeth. They all took it in turns brushing our giant sized teeth with our equally giant sized toothbrush. I think they enjoyed it just as much as me!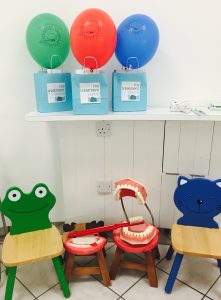 I went over brushing and diet advice and gave out goody bags with toothbrushes & fun brushing activities for the children to try at home.  I explained to the children that Coca Cola type fizzy drinks actually dissolve your tooth tissue and demonstrated this by dropping a dirty 1 penny into the fizzy drink! The children & staff were all quite shocked by this!
I loved taking our Oral Health Clinic on the road & visiting the children at Nursery, hopefully they had as much fun as me & remember to brush twice a day!
If you think your child would benefit from one of our Oral Health Clinics please contact the surgery for more information.
Return to Blog