An interesting study has taken place recently at the European Centre for Environment and Human Health at Treliske in Truro, which has led medical students to analyse the seaweed which has washed up on our coast & into our rock-pools. The investigation is to try and uncover properties in the seaweed that could possibly form the basis for a new strain of antibiotics which could then go on to help prevent superbugs like MRSA!
As a preventative practice we encourage our patients to maintain at least annual check up examinations this is so that we can take relevant radiographs and we can ensure a good standard of oral health is maintained by the patient. By ensuring our patients keep up to date with their check ups it helps us to keep abscess and infection rates to a minimum. The main reason for patients needing antibiotics dentally is because they have developed some form of infection, we do not like giving antibiotics un-necessarily and will always try to aid our patients without the prescription of antibiotics as recent research has shown that our bodies are beginning to form immunities against the medication.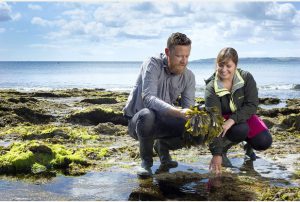 The immunity our bodies are creating and the rise in drug resistant bacteria has made the urgency for new drugs very apparent. This research could help to form the basis for new antibiotics and then treat infections when others fail.
Seaweed holds a diverse array of antimicrobial properties as it is a natural compound, but developing the seaweed into new antibiotics is very expensive and pretty tricky. The study will help to design a cost-effective process for the screening and testing of natural products.
Michiel Vos, an expert in microbial evolution, is leading the research. Dr Vos said. "To take these ideas further we'd like to create a dedicated research project that can really shed light on the potential we're seeing. With its abundance of coastline and seaweed species, Cornwall is the perfect place for this kind of research."
So there you have it our very own beautiful Cornwall is at it again, naturally making the world a better place!
If you would like to read the full article please click here.
Return to Blog