In a poll recently carried out by The Oral Health Foundation they discovered that less than a third (29 per cent) of us said we are likely to pose for a photograph with an open mouth smile, with findings showing that discoloured teeth are the biggest reason we are not flashing our pearly whites (33 per cent). An estimated 17 million selfies are posted every week on social media, in just the UK alone… We want these selfies to be toothy grins not the go-to duck-face!

But if we all want lovely pearly whites how can we help to achieve this? Well of course by brushing twice a day! But guess what? Over half (55 per cent) of us UK adults admitted in the survey that they only brush ONCE a day!! So 2 minutes twice a day really helps to maintain a healthy smile, remove food debris, decrease the risk of gingivitis & helps to prevent staining build up.
Dr Carter said: "Most of us have a camera in our pocket everywhere we go now and with the quality of phone cameras constantly increasing more and more of us are worried about our appearance, especially it seems the state of our teeth.
"Discoloured and crooked teeth are two of the biggest reasons identified for the lack of toothy smiles but thankfully addressing these and taking care of our oral health is quite simple. As long as we brush our teeth for two minutes twice a day with a fluoride toothpaste, cut down on how often we eat sugary foods and drinks, and visit the dentist regularly, as often as they recommend, we can help address major oral health problems.
Dr Carter continued: "A smile is an incredibly powerful tool and is worth remembering it is one we all possess; a simple smile can make others around you feel at ease, it's highly contagious and plays such an important role in our lives that we should make our oral health top priority, it saddens us that not everyone has the confidence to show theirs off to its full potential.
Maintaining regular dental check ups & ensuring you brush twice a day are the best ways to ensure your teeth and gums stay healthy, if you do have anything you are concerned about we recommend you speak to your dentist…
If you would like to enhance your healthy smile we now offer Invisalign invisible braces with free tooth whitening, if you would like to book a free Invisalign consultation please contact our reception on 01872 241955 or email us info@thetreatmentcentre.co.uk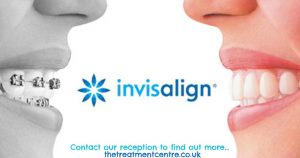 Return to Blog